Whenever I have a friend going away, I will always tell them to take my bags. I have mastered the art of bags on tour.
I started off with a big hard suitcase on wheels. It was beautiful, I'm sure it weighed 7kg empty. The first time I took it on a plane, it got scuffed to the shithouse and never looked nice again. I should have sold it that moment. I didn't. It sat in mum's laundry for several years, it's probably still there.
I once took a backpack away backpacking, that sucks because you have to put it on your back every time, if another person was to carry it for you then they are carrying it awkwardly. Dumb straps get caught on things and they are generally ass-hole-y to move around anywhere even remotely crowded. Pair it with Jono's ukulele wherever you are and you become a certified fuck-wit.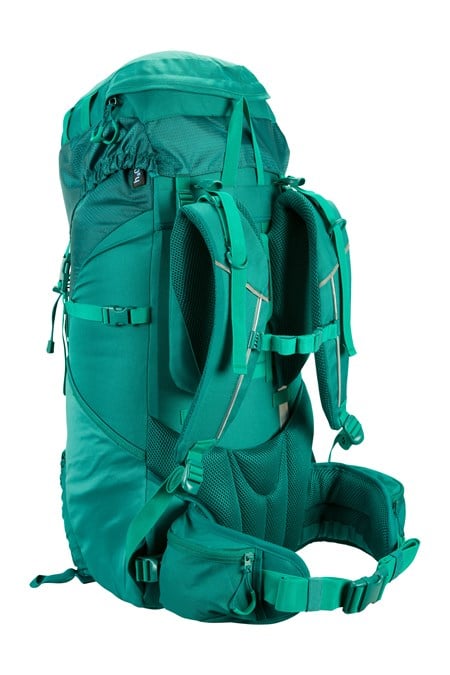 So here is the sweet spot. The Kathmandu 70L or 50L Hybrid Trolley, combined with an 18L Glueon Pack. This baby has wheels and pop-out puller (technical name) that will whizz you around any smooth-ish surface. There is also hidden backpack straps for when you are traipsing through cobble stone streets of Bruges, need some back support while you're laying on the airport floor after another delayed flight, climbing onto a boat; waist deep in the Mekong River, or getting to your hotel "just on the other side of that sand dune". The 70L is a perfect size for Jono (195cm tall) and the 50L is spot on for me (173cm tall) to carry for a few hours. We also bought the Glueon backpack because thats an extra 20L to stick on the front of either, that comes on or off easily (or you can wear it back the front if you have the suitcase on your back and passport/wallets in the glueon. 10/10 try to lend these to everyone.
The next award to be presented is for outstanding contributions to short holidays and supporting player in JetStar specials where they jam you an extra $100 for checked baggage is… Antler's Claredon Softcase Cabin. This little gem has a pop-out pully too and wheels that spin in all manner of directions so it has never done that dumb flip-for-no-reason-and-sprain-your-wrist trick. In addition, it's expandable and seems to be able to fit so much in it. It is also fairly light (at 2kg). I took this one to bali for a week and still had room after the shopping (because Jono advised against me buying the macrame hammock I wanted).
The next thing you 100% need to buy are packing cells. I used to think these were dicky and unnecessary but once you go pack you will never go back. For everything that is divided in your bag, get a packing cube. For example I go: bottoms, tops, dresses, outerwear, shoes, accessories, undies, swimmers, books, technology and seperate bags for dirty/wet clothes and toiletries. You will find everything you need in a moment. There will be less wrinkles (not none!). You can use them as pillows. When you need something these are the steps: you open your suitcase, you see the cell you need, you get it out, you close the suitcase. I HAVEN'T RUMMAGED IN MY SUITCASE FOR YEARS!